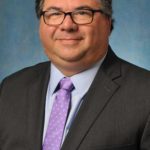 Adjunct Instructor
Academic Degrees
B.S.E.E., Virginia Tech; M.S.E.E., Virginia Tech; Ph.D., The Catholic University of America
George Foster, Adjunct Instructor of Computer Science, received his Ph.D. from the Catholic University of America and an M.S.E.E and B.S.E.E. from Virginia Tech in Electrical Engineering. His teaching interests include demystifying the art of computer programming for novices and the use of design patterns. His research interests include the architecture of large-scale software systems and the application of artificial intelligence and machine learning to physics-based problems.
Dr. Foster has over 25 years of professional experience in the architecture, design, and implementation of large physics-based software systems of systems with the United States Government, where he has achieved the Senior Scientific executive rank. He has been the Technical Co-Chair of the IEEE International Systems Conference. He serves by request as a doctoral committee member at Old Dominion University and The Catholic University of America. His research has generated 29 technical publications.
Dr. Foster takes the greatest pride in his nomination as a "Campus Hero" by the 2017-2018 freshman class.