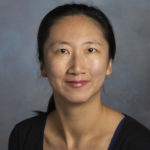 Associate Professor
Academic Degrees
B.A., Ewha Women's University, South Korea; M.A., Ph.D., University of California at Santa Barbara
Janie Lee, Associate Professor of Linguistics, received a Ph.D. in Linguistics (2010) from the University of California, Santa Barbara. Her dissertation is entitled "Linguistic Citizenship and Ideologies of Americanness in a U.S. Naturalization Class." She also holds an M.A. in Linguistics (2006) from UCSB and an B.A. in English Education (2003) from Ewha Women's University in South Korea.
Dr. Lee has published articles in journals such as Anthropology & Education Quarterly and Pragmatics. She also has presented scholarly papers at national and international conferences. Her most recent presentation was at the International Gender and Language Association's biannual conference in Hong Kong, where she presented the paper "Ideologies of Korean Competence and Gendered Citizenship in South Korean Television."
Dr. Lee has won multiple grants and fellowships such as the UMW Jepson Fellowship, UMW College of Arts and Sciences Curricular Innovation Grant, and UMW College of Arts and Sciences Faculty Research Grant. While at UCSB, she won such fellowships as Dean's Prize Teaching Fellowship and Interdisciplinary Humanities Center Predoctoral Fellowship. She is also an award-winning teacher-scholar, being a recipient of University of Michigan's National Center for Institutional Diversity Emerging Diversity Scholar Citation, UCSB Graduate Student Association Excellence in Teaching Award, and the Fiona Godchild Award for Excellence as a Graduate Student Mentor of Undergraduate Research.
Her current research examines contemporary understandings of U.S. citizenship in language policy and citizenship education. Continuing her research interest in citizenship and race in a multilingual setting, she recently began a new research project investigating how language competence, citizenship, and race play out in her native South Korea.
She regularly teaches courses in introductory linguistics, sociolinguistics, and discourse analysis.
Website
http://professorjanielee.com