UMW Athletics will kick off its 2017-18 basketball season with Eagle Madness on Tuesday, Nov. 7, in Rosner Arena at the Anderson Center. The event, from 7 p.m. to 9 p.m., precedes the University's basketball season opener on Wednesday, Nov. 15.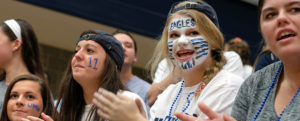 Eagle Madness is a pep rally-style event with dance performances, fan contests, and prizes. Also, on tap will be a kids' dunk contest, a three-point contest between sharpshooters from both teams, a game featuring UMW faculty and staff versus students, and the grand finale $1,000 half-court shot.
In conjunction with the Junior Eagle Kids' Club, children ages 12 and under will be able to meet and take photos with the players beginning at 6:30 p.m. in the court-level lobby. They are asked to enter the Anderson Center through the side entrance by the ticket office.
Eagle Madness is free and open to the public. UMW students, faculty and staff are asked to swipe their Eagle One cards as they enter the ticket office to register for other prizes. DJ 2Much and 99.3 The Vibe will on hand to fire up the crowd.
Basketball season passes for the general public will be on sale in the Anderson Center's main lobby. Season tickets for all 25 home games cost $100, $60 for senior citizens aged 60-plus and members of the military. Courtside VIP seating season passes are $175 (new this year), and also will be available on a game-by-game basis for $20. Parking is available in the UMW Parking Deck, located off U.S. 1 near the UMW pedestrian bridge.
For more information, visit umweagles.com or email Ryan Greer at rgreer@umw.edu.