Three team national championships, seven individual national championships and 308 All-American athletes – that's UMW Athletics' record to date. Just this year, three teams won CAC titles, one team advanced to the NCAAs and men's rugby won the USA Rugby's D1AA fall championship.
And yet, that's not the score card that UMW Athletics keeps.
As one of 450 schools in the NCAA's Division III program, UMW and its 23 varsity and four team sports find a few things as important – if not more important – than the numbers on the board at the end of the game.
It's about rigorous academics.
At UMW, 14 head coaches also hold faculty status, leading by example and instilling the importance of education and academics from the get-go. Each team also has a faculty liaison and many teams implement mandatory study halls, even during the off-season.
"DIII means you are a student first and athlete second," said senior and softball centerfielder Caroline Callahan. "UMW really wants you to succeed in the classroom and on the field."
The effort pays off. UMW Athletics has scored an average 3.0 GPA for seven of eight consecutive semesters, with women's volleyball achieving a 3.53 and men's baseball earning a 3.24 in fall 2017.
It's about the team.
UMW athletes learn that the team comes first – even as early as the recruiting process.
"It's not always about being the best player," said Jason Kilby, men's soccer coach. "It's about finding players that have the skills but can also be the best teammate."
When you eat, study, work, train, play and often live together, being a good teammate is critical to success.
"When we're on defense, the infielders always meet the pitcher at the mound," said senior softball player Malia Rogers. "Each player puts one foot on the mound and one finger on the ball to let the pitcher know we have her back."
It's about community.
Sports bring people together – and that's something that UMW Athletics strives to do, both on the field and in the community.
In the 2016-17 academic year, UMW student athletes contributed over 2,600 hours of community service in the Fredericksburg area and collected over 5,500 pounds of food for the Rappahannock Regional Food Bank. Any week of the year, student athletes can be found reading to elementary school children, volunteering at local nonprofits and collecting supplies for the homeless.
At the end of the day, UMW Athletics represents the university – both on and off the court or field of play.
"UMW Athletics is the front porch of the university," said Volleyball Coach Matt Troy. "Everyone sees us first a lot of the time."
See all that UMW Athletics has to offer at http://www.umweagles.com/landing/index and catch a glimpse inside the lives of UMW student athletes below.
Whirlpools. Rehab programs. Stretching. Ankle wraps. It's all part of a day-in-the-life for many student athletes, who work with UMW's athletic trainers before, during and after practices and games.
"It's worth every minute," said freshman and track athlete Kristina Tosi, who has worked with trainers twice a day after pulling her quad muscle during a triple jump last month. "My muscle was close to being torn. If it wasn't for our trainers, I don't know that I would still be competing."
"Teammate" easily translates into classmate, friend and study buddy for many student athletes. Sophomores Austin Matz and Ethan Kelly, in their second year on the men's golf team, meet up for lunch after their logics class each week and are occasionally joined by new team member, freshman Sebastian Bonte.
"My favorite part of being a student-athlete is the bond I've formed with my teammates," said Matz, an accounting major who helped start UMW's golf program last year. "We have great team chemistry and all enjoy doing things with each other outside of golf."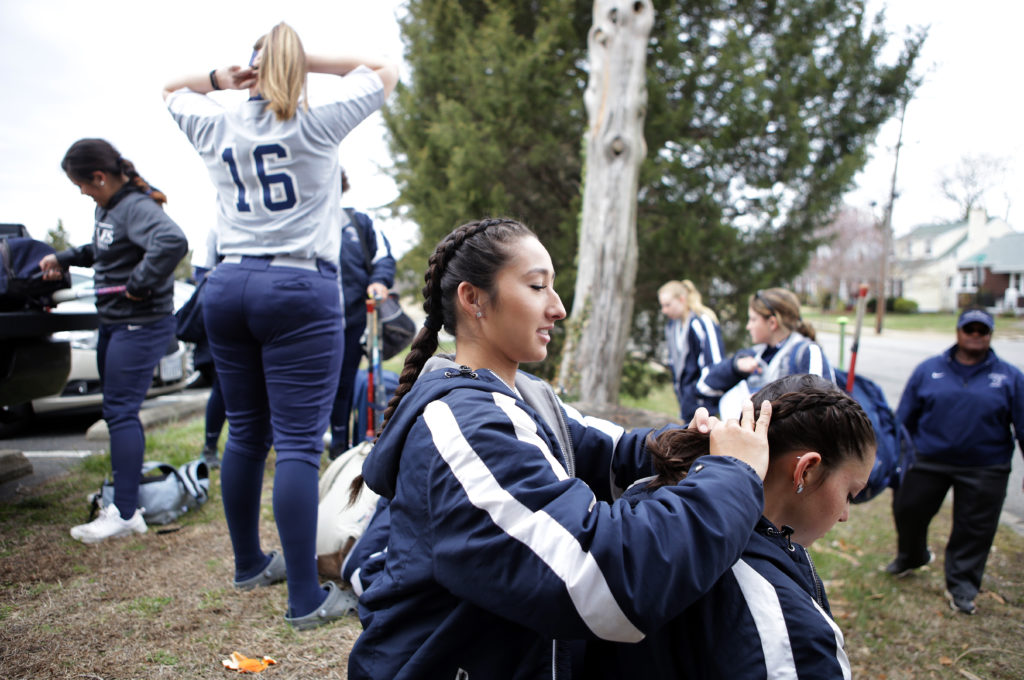 Bus rides are another part of the student-athlete experience. With more than half of their season spent on away games, UMW's softball team is used to traveling together.
"I'm in charge of music," said senior softball player Malia Rogers, waiting for her team to arrive for the trip to Randolph Macon. "We always bring a huge speaker with us. I'm responsible for getting the team pumped up before the game."
Outside of sports practices, teams also have strength and conditioning sessions in the university's varsity weight room – mandatory during the regular season and 'highly suggested' during the off-season.
"We believe in teaching the basics," said Kevin Ives, assistant director of strength and conditioning, as he watched the men's soccer team do cone-hops to build stability. "If we can make athletes stronger, faster and bigger, then that transitions over to the playing field and helps prevent injuries."
"One of the biggest challenges as a student athlete is balancing time between practice, lifting and other team requirements with academic obligations," said senior Kendall Parker, a political science major on the women's basketball team. "We schedule out time to study together and we check on each other daily to make sure we are all staying committed to succeeding off the court, as well as on."
Like many teams, women's basketball has mandatory study halls – six hours a week pre-season and three hours a week post-season – to make sure academics remain a top priority.
UMW's long-distance runners meet at the track – despite the drizzle – to warm up before their run for the day, stretching at the recently renovated state-of-the-art track and field complex.
Six miles? That's just a recovery run, says junior and nursing major Jillian Weisbeck, who typically logs anywhere from 50 to 55 miles a week as a member of both the cross country and track and field teams.
Responsibility and self-accountability – crucial first steps on UMW's baseball team, where success is more of a lifestyle than a game-day strategy.
"It's not just about playing baseball, it's about becoming successful overall," said Head Coach Wayne Riser, who developed a guide to success for his team. "Success mirrors baseball – you can't cheat baseball, and you can't cheat success."
The team comes first – it's something that the women's lacrosse team, currently ranked sixth in the country, takes seriously.
"Before each game our players huddle up and chant 'We're all we've got, we're all we need, Wash on Three,'" said Caitlin Moore, head coach of women's lacrosse. "For us this is a reminder to surrender the 'me' for the 'we,' and in that we find success."
Nerf wars. Mannequin challenges. Dance parties. Birthday dinners at the coach's house. The UMW women's volleyball team knows how to have fun – but on the court, it's all business.
Slamming balls and squeaking sneakers echo through the Anderson Center's Ron Rosner Arena as the team performs a drill, intensely focused on the task at hand. In the background, Coach Matt Troy gives directions: Bend your elbows. Move your feet. Go to the left.
"He pushes you to be the best you can because he knows how good you can be," said junior Ryan Cho, an accounting major. "It's frustrating because there are days when it's really hard – but he's always right."
For many students, athletics and academics are just part of the equation. As DIII players, UMW student athletes don't receive scholarships and often pick up side jobs on campus or at local companies.
"I'm able to balance all of this because of the organizational rhetoric that my professors and coaches instilled in me early on at UMW," said soccer player Curran Smolinsky, who juggles academics and athletics with a part-time coaching gig and a job as a wedding and event caterer at Stevenson Ridge. "They prepared me to achieve a heavier workload than I thought was even possible for a student athlete."
Commitment. Grit. Integrity. Passion. It's all part of the experience for UMW student athletes.
"They might be buzz words but you really can see those things applied in athletics," said Philip Pierce, Director of Athletic Development. "As an athlete, you're preparing to win and hopefully not just to win games but to win in life."