Virginia Realtors Chief Executive Officer Terrie Suit challenged the 152 University of Mary Washington master's degree candidates to look outward from their own success to help encourage others around them.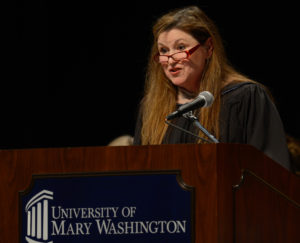 "Leadership doesn't come from a job title or being someone's superior. When you focus on building up and supporting the people around you, whether at home, at work or at school, you are a leader," Suit said during the graduate commencement exercises in Dodd Auditorium in George Washington Hall on Friday, May 10.
The University awarded 10 Master of Geospatial Analysis degrees, 37 Master of Business Administration degrees, 75 Master of Education degrees and 30 Master of Science in Elementary Education degrees.
Suit, who delivered the graduate commencement address, shared her own personal stories about how family, friends and colleagues encouraged her to pursue her dreams and accomplish her goals, even when they seemed out of reach.
An Army daughter and the wife of a Navy SEAL, Suit spoke of her struggles to establish domicile in Virginia when she was applying to college and wasn't eligible for in-state tuition. Years later, as a member of the Virginia House of Delegates, where she served for nearly a decade, one of Suit's proudest accomplishments included passing legislation that recognizes veterans, military dependents and active duty service members as Virginia residents for tuition purposes.
"I tell you this story because it's actually one about leadership," said Suit, who earned a master of business administration degree at UMW in 2016, after receiving her bachelor's degree from Old Dominion University. "I would never have had the courage to run for office on my own. I would have never had the momentum to keep carrying this bill if not for the encouraging words I received from regular people around me who I said were my leaders."
In 2011, Suit was appointed by Virginia's Governor as the commonwealth's first Secretary of Veteran's Affairs and Homeland Security, and worked diligently to fulfill the governor's mission of making Virginia "the most veteran-friendly state in the nation."
Suit, who became a real estate agent in 1985 and later transitioned into a 20-year mortgage lending career, also congratulated and praised the graduates for their dedication, perseverance and hard work.
"Graduate school isn't easy. It comes at a time when life is already happening all around you," said Suit, who acknowledged the challenges, limitations and sacrifices that many graduates and their families have experienced while completing their degrees. "Relationships, responsibilities and financial priorities already fill your days. And yet, each of you said, 'I want something MORE for my life.' And you've achieved it."
She concluded with charging the graduates to take up the mantle of helping others reach for the stars through words and acts of kindness, both big and small.
"Tonight, you have each achieved a tremendous goal. As you go forward, strive to keep focusing outward, encouraging others to unlock their own drive and grit," Suit said. "The next simple praise you offer, whether said aloud to a friend or etched on a student's essay, could be the exact words someone needs to hear."