Early Saturday morning, a wave of 200 blue shirts emblazoned with the words "Little ripples make big waves,"stretched out across the front of the University Center. Wearing the shirts were UMW students gathered for Into the Streets, one of six annual events hosted by UMW's COAR (Community Outreach and Resources), whose mission is to provide structural support for civic engagement, volunteerism and service.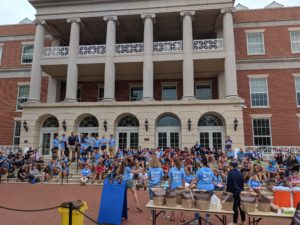 Into the Streets offers students an array of volunteer opportunities – from landscaping to car washing – and a chance to check out Fredericksburg along the way.
"The goal is to encourage students to explore community service, get to know more about the area where we live, and to give back to the community," said Sarah Dewees, associate director of UMW's Center for Community Engagement.
Despite scattered rain showers, there was no lack of enthusiasm as volunteers strapped on work boots, gathered supplies and headed to more than a dozen service project sites across the city. Activities included selling plants, decorating windows, assembling picnic tables, gardening, writing letters to veterans and more.
Senior rugby player Ross Whitehead's group was assigned to the Confederate Cemetery, where they pulled weeds around gravestones and removed debris. "It was a nice change from my typical Saturday morning," said Whitehead. "As students and athletes, my rugby teammates and I value service work and want to support the Fredericksburg community as much as they have supported us. Even more, we want to foster the relationship between the university and the city."
Along the Rappahannock River, sophomore Kendall Resnick led a group of volunteers to Old Mill Park to team up with Tree Fredericksburg, a non-profit dedicated to restoring and maintaining a vibrant urban forest within the city. With the helping hands of retirees and families, the two groups mulched around the trees at the park.
As a first-time participant, it was the collective sense of purpose that left the biggest impact. "It was so awesome to see everyone working together to improve our community," said Resnick, a communication and digital studies major.
A third of Saturday's volunteers were first-year students, Dewees said, leaving her and others optimistic for this upcoming year. "We hope that students will also have an opportunity to build relationships with other students during this experience, and find a volunteer activity that they enjoy."