If the University of Mary Washington brings the melody to tomorrow night's Jazz4Justice concert, legal aid brings the rhythm.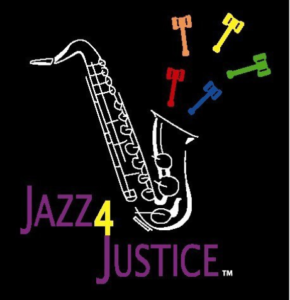 Sponsored by UMW's jazz music program and Legal Aid Works of Fredericksburg, the free production is a 45-minute blend of nostalgic concert footage, soulful surprises, and messages and performances by Mary Washington students. This year's seventh annual fundraiser – held virtually on Saturday, Nov. 14, at 7:30 p.m. – supports scholarships for UMW music students and legal services for low-income families in the Fredericksburg area. And it's all wrapped up in a smooth layer of jazz music composed and arranged by Director of Jazz Studies Doug Gately.
"It's America's music and it has that American spirit, which is freedom," Gately says on a promotional video for the concert. "Jazz music is a way for people to express themselves freely. And I think it's very becoming of the legal side of things … raising money for people to express their freedom through the legal system."
Because of this year's masking requirements, the concert's live portion will be performed by the UMW Jazz Ensemble's rhythm section, the Jazz Quartet. The group features Gately on piano, along with students Ravi Palat on bass, Gabriel Morris on guitar and Nathan Argust on drums, all of whom have received Jazz4Justice scholarships.
The presentation also includes messages from sponsors and community supporters, a guest appearance by Mary Washington President Troy Paino and a special jazz version of Mary Washington's Alma Mater. Organizers already have far exceeded their fundraising goal of $10,000, but they're hoping for more.
Given the pandemic, "it would have been easy to just cancel the event, but it has become so important for the community and it raises much-needed funds," Gately said this week. "We decided that the 'show must go on.' "
Open to all students by audition, the UMW Jazz Ensemble is composed of those majoring in every discipline. The group performs contemporary jazz arrangements and standard big band literature. Members receive instruction in performance techniques, jazz history, theory, improvisation, and an analysis of elements of style and interpretation of jazz music. Smaller groups within the ensemble typically perform at events both on and off campus.
Jazz4Justice concerts got their start 20 years ago, when former Fairfax Law Foundation President Ed Weiner went to a scantly attended student recital at George Mason University. In an effort to beef up audiences, he formed a partnership between the university's School of Music and the local bar association.
Today, Jazz4Justice concerts, like the one at UMW, are held throughout Virginia and raise tens of thousands of dollars each year for music scholarships, and educational and charitable services benefiting local communities.