Lecture Date: March 16, 2021
The Sodexo Lecture
As the eldest of five children born to the Roman Baroque painter Orazio Gentileschi, Artemisia Gentileschi (1594-1654) was destined to work in her father's studio. She was not destined, however, to outshine her father at his chosen profession.
Common practice in workshops at the time, whether the product was furniture, armor, or altarpieces, was for children to assist fathers in the family's business. The evidence of Artemisia's early independent paintings suggests that Orazio recognized his daughter's remarkable talent and brought her into his studio where she grew up grinding pigments and mixing colors, and eventually transferring her father's sketches to canvas. In other words, Artemisia's artistic education likely began at a very young age and she quickly became indispensable.
The city of Rome around 1600 was the center of art in Europe. The papacy and the many cardinals, princes, and diplomats in the city were hungry for new art to fill churches and palaces being built in the modern Baroque style. Orazio would have seen an opportunity to expand the number of commissions he received by insuring Artemisia's continued training and exposure to this world. But Rome was not only an artistic center, it was alarmingly violent. Artemisia's life was altered before she turned 20 by the city's violence.
In this lecture we will examine Artemisia Gentileschi's career from her beginnings in Rome through her work for the Medici court in Florence, her travels to Venice and London, and finally to the Spanish court in Naples where she lived and worked for the last two decades of her life. Gentileschi has been described as the most acclaimed woman artist of the seventeenth century. Her work, however, indicates she was one of the most extraordinary artists of any age. Gentileschi's dramatic life offers a window through which we may appreciate the range of experiences and depth of emotions evident in her paintings.
For further reading on Artemisia Gentileschi, see an op-ed by Marjorie Och, published in the Free Lance-Star.
Speaker: Marjorie Och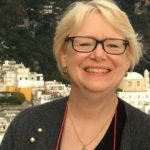 Marjorie Och, Professor of Art History, has published on the patronage and production of art by women in early modern Italy; the role of cities in Giorgio Vasari's Lives of the Artists (1550, 1568); the Venice Biennale and contemporary art; and the art of Mary Washington's own Margaret Sutton, Class of 1926. Dr. Och teaches courses in Renaissance and Baroque art history, and seminars on the city of Venice, Michelangelo, Bernini, and women and Western art.