Lecture Date: January 25, 2018
The UMW Common Read and Honors Program Lecture
In 1941, following the devastating surprise attack at Pearl Harbor, a group of female college students received secret letters from the U.S. Navy, inviting them to join America's intelligence forces and train to become code breakers. Over the next two years more than 10,000 women would answer that call: college students and Southern schoolteachers, young women from cities as well as small towns and farms. While their brothers and boyfriends took up arms, these women moved to Washington, D.C, and learned the meticulous work of code breaking. Their efforts shortened the war, saved countless lives, and gave them access to careers previously denied to them. A strict vow of secrecy nearly erased their efforts from history.
Now, through dazzling research and interviews with surviving code girls, bestselling author Liza Mundy brings to life this riveting and vital story of American courage, service, and scientific accomplishment. She shares the story in a talk, based on her new book, which includes video footage of her interviews with surviving code breakers. In the tradition of Hidden Figures, it is the story of an early cohort of women adept in science and math, whose efforts helped the Allies win what remains the biggest, costliest, and worst war in human history.
Speaker: Liza Mundy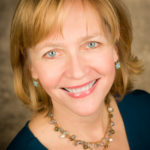 Liza Mundy is an award-winning reporter and New York Times bestselling author of several books, including Michelle, a biography of First Lady Michelle Obama, which was translated into 16 languages.
In 2013, Liza released The Richer Sex, which explored the forces behind women's rising economic power and the way this impacts marriage, dating, sex and family life. Her book was adapted for the cover of Time magazine and inspired a flurry of media coverage. Her most recent publication,Code Girls (2017), tells the story of how more than ten thousand women served as codebreakers during World War II.
She has appeared on The Colbert Report, The Today Show, Good Morning America, CBS This Morning, MSNBC, CNN, C-Span, Fox News, Democracy Now, Bloggingheads TV, the Leonard Lopate Show, and National Public Radio shows including Weekend Edition, All Things Considered, the Diane Rehm Show, Fresh Air with Terry Gross, Tell Me More, Talk of the Nation, On Point,and numerous other television and radio shows. A former longtime reporter for the Washington Post, she is currently director of the work and family program at the New America Foundation, and also a contributing editor at Politico Magazine. She has written for Slate, Time, the Guardian, the Washington Monthly, Huffington Post, and Lingua Franca, among others, and has received fellowships from the Japan Society, the Marine Biological Laboratory, and the Henry J. Kaiser Family Foundation.