Lecture Date: February 19, 2019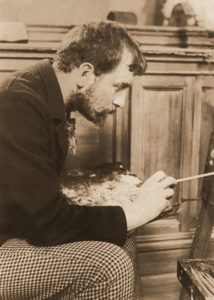 Nowadays when Sotheby's auctions off a painting for nearly a million dollars, no one gets overly excited, but when the artist is an American by the name of Gari Melchers, people sit up and ask, "Who?" It wasn't always so.
Born in Detroit in 1860, Gari Melchers barely finished his training before he was singled out by the art establishment as an up-and-comer. In an era of art revolution, Melchers strategized a formula for success by straddling the fence between the academic tradition and modernism. He was never without work and was handsomely compensated for it. Before long he was at the top of his profession, earning the prizes that eluded most artists and selling his pictures to the most distinguished art institutions in Europe and America. President Theodore Roosevelt was his most celebrated subject. So why have we not heard of Gari Melchers?
In recounting Melcher's story, Catron uncovers the contradictions and complexities of his art, helping to explain why he was so undervalued in the half century after his death and providing a true assessment of his important place in American painting. Along the way she delves into Melchers' personal and professional associations to deliver another "great life" and uncommon tale.
Speaker: Joanna Catron
Joanna Catron earned a B.A. in art history from Mary Washington College and an M.A. in art history with a concentration in museum training from George Washington University. She has served as curator of Gari Melchers Home and Studio in Falmouth, Virginia, since 1983, assuming the additional role of assistant director in 2018. She is the author of several articles on Melchers and his home and studio at Belmont; has been a contributing writer to numerous exhibition catalogs; and is a lecturer on the topics of Gari Melchers, American painting of the late-19th century, and the art market and craft of the forger. Regarded as the world's leading authority on Gari Melchers, she is compiling a catalogue raisonne on the artist - and is regularly called upon to authenticate his works.