Lecture Date: February 27, 2018
The Coldwell Banker Elite Lecture
Big Brother entered the world in 1949 as the shadowy villain in a futuristic novel written by a dying man who had almost no future left. Tuberculosis killed George Orwell a few months after the publication of his masterpiece, Nineteen Eighty-Four. He was only forty-six. But Big Brother—his most famous character—has had a surprisingly long life. For almost seventy years he has been haunting our imaginations. He is the most influential literary character of modern times, and the book's dire warning, "Big Brother is watching you," is the most prophetic statement made in any novel of the last century.
Nineteen Eighty-Four is that rarest of literary creations, the novel that grows more relevant with each passing year. But the dramatic story behind the writing of the novel is almost as fascinating as the book itself. It begins with a sniper's bullet striking Orwell in the throat while he was a volunteer soldier in the Spanish Civil War, and it ends with the author completing his book on a remote Scottish island twelve years later while a chronic disease, a family tragedy, and fears of censorship threaten to undermine his efforts.
Speaker: Michael Shelden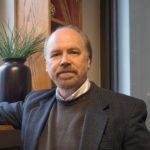 Michael Shelden is the author of six biographies, including Mark Twain: Man in White, which was chosen as one of the Best Nonfiction Books of 2010 by the Christian Science Monitor. The film rights of his recent Young Titan: The Making of Winston Churchill (2013) have been optioned to Carnival Films, the UK producers of Downton Abbey. For a dozen years Shelden was a Features Writer for the London Daily Telegraph, and for ten years he was a fiction critic for the Baltimore Sun. A popular speaker, he has recorded three sets of audio lectures for Recorded Books, including The Lost Generation: American Writers in Paris in the 1920s (2011), which AudioFile magazine praised for its "bittersweet imagery . . . wry wit, passion, and humor." Translated into five languages, his 1991 biography Orwell: The Authorized Biography was a Finalist for the Pulitzer Prize, and a New York Times Notable Book.