Lecture Date: February 23, 2023
The Joe and Mary Wilson Lecture
How does one tell a story with images? This was a question Rembrandt posed to himself throughout his long career. He turned to the great narratives of the Bible, Greco-Roman mythology, and European history for inspiration, but he never merely described a text. Rembrandt studied his sources then summoned the lives within the narratives, thus imagining and creating encounters for the viewer to feel as well as see. In Rembrandt's paintings, one experiences the return of a dissolute child (The Prodigal Son), a decision with unthinkable choices (Bathsheba), the pride of victorious citizens (The Night Watch), the expectations of love (Danaë), and the horror of death (Descent from the Cross). Rembrandt takes us through an extraordinary journey of emotions in his work, and we are changed.
This talk will explore Rembrandt's life and consider some of his most compelling images within the context of the Golden Age of Dutch Baroque painting.
Further Reading Resource List provided by CRRL
Speaker: Marjorie Och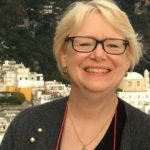 Marjorie Och, Professor of Art History, has published on the patronage and production of art by women in early modern Italy; the role of cities in Giorgio Vasari's Lives of the Artists (1550, 1568); the Venice Biennale and contemporary art; and the art of Mary Washington's own Margaret Sutton, Class of 1926. Dr. Och teaches courses in Renaissance and Baroque art history, and seminars on the city of Venice, Michelangelo, Bernini, and women and Western art.