Lecture Date: January 27, 2022
The Barlow & Thomas, P.C. Lecture
Vincent van Gogh lived only 37 years (30 March 1853 – 29 July 1890), yet his work has had an indisputable influence on artists in the 20th and 21st centuries, perhaps to a greater extent than any previous painter in the West. And his life, while not the origin of the "suffering artist living in a garret" story, codified that fiction into a powerful narrative that haunts any parent whose child says: "I want to go to art school."
Van Gogh was born into a family of Dutch Reformed ministers, theological students, art dealers, and artists. This family background makes Vincent like so many young men in Europe from antiquity up to that time. As the oldest surviving child of his parents -- and a son who bore a family name, Vincent -- it was expected that he would continue in the family's business. Van Gogh tried his hand at each of these professions.
It wasn't until 1881 that he turned his attention to "artist," creating nearly 900 paintings and thousands of drawings in his remaining nine years, the most famous of which he produced from 1888 and later, including The Yellow House (1888), Bedroom in Arles (1888), The Night Cafe (1888), The Starry Night (1889), and Wheatfield with Crows (1890). These late paintings have all the trademarks of a "Van Gogh" -- brilliant primary colors and evident brushstrokes in repeating patterns that seem to vibrate on the canvas. While color was paramount in his painting, a linear texture was his focus in his drawing in which he creates new techniques for suggesting different qualities of light and the variety of dark in shadows.
Vincent van Gogh, however, was not all about invention. His background, education, and opinions -- many of which we can read in his voluminous correspondence -- points to an artist embedded in traditions he understood, relished, and resisted. In so many ways, van Gogh offers a vision for us today of forging something new out of the old.
Speaker: Marjorie Och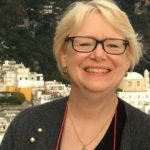 Marjorie Och, Professor of Art History, has published on the patronage and production of art by women in early modern Italy; the role of cities in Giorgio Vasari's Lives of the Artists (1550, 1568); the Venice Biennale and contemporary art; and the art of Mary Washington's own Margaret Sutton, Class of 1926. Dr. Och teaches courses in Renaissance and Baroque art history, and seminars on the city of Venice, Michelangelo, Bernini, and women and Western art.