UMW Athletics will host Eagle Madness, a midnight madness-style event on Tuesday, Nov. 8, in Rosner Arena at the Anderson Center. The event, from 7 p.m. to 9 p.m., precedes the University's basketball season opener on Tuesday, Nov. 15.
Eagle Madness is free and open to the public, but participants are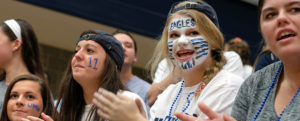 asked to bring non-perishable foods to donate to the University's Stop Hunger Now drive. The food collection effort, for which UMW Athletics partners, helps alleviate hunger in the Fredericksburg community. Donations go to the Fredericksburg Area Food Bank.
UMW Athletics will raffle off prizes and hold contests on the court with fans and players. In conjunction with the Junior Eagle Kids' Club, children ages 12 and under will be able to meet and take photos with the players beginning at 6:30 p.m. in the court-level lobby. They are asked to enter the Anderson Center through the side entrance by the ticket office.
The first 100 fans who enter with an "I Voted" sticker will receive a UMW Eagles cell phone wallet. UMW students, faculty and staff are asked to swipe their Eagle One cards as they enter the ticket office to register for other prizes.
Basketball season passes for the general public will be on sale in the Anderson Center's main lobby. Season tickets for all 26 home games cost $100, $60 for senior citizens aged 60-plus and members of the military. Parking is available in the UMW Parking Deck, located off U.S. 1 near the UMW pedestrian bridge.
For more information, visit umweagles.com or email Philip Pierce at ppierce@umw.edu.