They met their match on a late summer morning, inside a classroom on the basement floor of Combs Hall during the first day of English 101.
She'd come from a small town in Massachusetts, a math major in search of warmer weather. He was from Richmond, studying historic preservation.
Their eyes met. This is how it began.
After class, he told his roommate about a girl named Emily Antos '11. She told her roommate about a guy named Gregg DiSalvo '11. Later, much later, they'd talk about that first day and laugh over the shared experience. For now, though, and for the remainder of the semester, they were classmates, partnering on projects and making mutual friends who whispered that it was only a matter of time before Emily and Gregg ended up together.
That they would marry a decade after that first meeting – well, that was anybody's guess.
Mary Washington has made marriages since it first began accepting the GIs that flooded American colleges just after WWII. That was 1946, more than two decades before the all-women's college officially became coed.
Elmer Morris Jr. '50 and Marceline Weatherly '50 were among the first. She went by Marcy. He went by Juney. Their love story is still the stuff of legend.
They met at Mary Washington's C-Shoppe 71 years ago this month. They married as soon as they graduated, settling in the King George County home where to this day they eat dinner by candlelight.
They weren't the only matches made in those early years when fresh-faced boys back from a world war signed up for classes at Mary Washington. Marcy can think of at least three more.
Even today, in a generation of online dating and delayed marriages, more than one in four couples who walk down the aisle are likely to meet at their alma mater, based on a Facebook Data Sciences study that found some 28 percent of its married users went to the same college.
UMW-made — and mated
It is impossible to say how many marriages are UMW-made. Nobody keeps those stats. But anyone who keeps up with alumni can count off at least half a dozen without thinking.
There are the Johnsons, Michael '96 and Colette '97, who disagree on just how they met. She thinks it was at a basketball game– Michael was on the team and Colette's roommate was a cheerleader. He thinks it was at a party after a game. Either way, he thought she was shy. She thought he was friendly. They were both dating other people.
But by senior year, they were both single. He invited her over for a home-cooked dinner.
"That was the move," Michael said more than 20 years and three children later. She does not disagree. They married 16 years ago on the campus where they met.
There are the Applegates, Morgan '05 and Kelly '06, business majors who shared classes and friends long before they decided to share their lives with each other. Morgan proposed on the patio of the Jepson Alumni Executive Center in 2011, where he arranged red and white roses and planted Kelly's friend in the bushes to capture it on camera. They're expecting their second child this year.
There are Emma Leheney '15 and Harrison Miles '15, who this April will join Marcy and Juney and all the other Mary Washington romances that came after.
They met as orientation leaders in the summer of 2013. Harrison went home and told his parents that he'd met the woman he was going to marry. That fall, they went on their first date, overdressing for a restaurant that wasn't as nice as they thought it was. He asked her to go steady. She said no. He asked her again, and again, and on Nov. 15, 2013 –they still remember the date – she asked him if the offer still stood.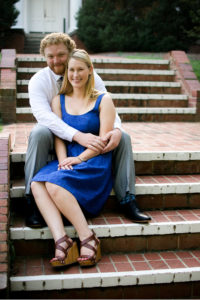 They moved to California in 2016, settling outside of San Diego. They'll come back to Fredericksburg this spring to marry. It seemed only fitting, since that's the place they met.
Full Circle
Marcy and Juney did not come to Mary Washington to find love, not even in those days when many women supposedly went to college for their "MRS degree." Their 71-years-and-counting romance began with this irony: Marcy's mother sent her to an all-women's college so she wouldn't find a husband.
Seven decades later, on the same campus, Emily wasn't looking for a man, either. And Gregg certainly wasn't looking for a wife, not at 18, not during his freshman year of college. In fact, it was Mary Washington that had charmed Emily — the warmth that was both literal and figurative. After a visit there, she knew there was no other place for her.
Their lack of expectation, she thinks now, is maybe what made it all work. It's easy to find something when you're not looking for it.
At UMW, Emily and Gregg grew up together. They completed their senior year together. Graduate school separated them, but when they finished, when she became an engineer for the Navy and he got a job doing design work for museums, they came together again.
Finally, nine summers after that first one, Gregg decided it was time. She wonders now how she didn't see it coming — how she thought they were just covering old ground. But he had a plan. They walked into that old classroom, the one on the basement floor of Combs Hall, and Gregg asked Emily to marry him.
It was a perfect circle, like the rings they would exchange a year later. Like their love for each other.