University of Mary Washington junior Karissa Highlander has spent the summer researching an infectious illness. But not the one scientists have been focused on for the past 18 months.
Instead, Highlander, a biomedical sciences major, has been working on new treatments for tuberculosis. Though rare in the United States, antibiotic resistant strains of the deadly disease are prevalent in developing countries. "This research could provide protection to individuals living in areas with high rates of infection."
Her study – along with that of 24 other undergraduates – will be on display on Wednesday at UMW's Summer Science Symposium. The event, held via Zoom, showcases months of student research aimed at finding solutions to real-world problems. Alongside their professors, they've been exploring topics like the cancer-fighting potential of over-the-counter drugs, disease-causing parasites in tropical climates, toxicity of plastics and the impact of pollutants on aquatic ecosystems.
The 10-week Summer Science Institute (SSI) gives students from six disciplines – biology, chemistry, computer science, Earth and environmental sciences, physics and mathematics – a jumpstart on projects they'll continue throughout their college careers.
"Independent research gives UMW students the opportunity to see the impact their work can make on the scientific community at large," said Associate Professor of Chemistry Davis Oldham. "The experiments they're doing today – working with cells, analyzing mixtures, writing code – may one day lead to big discoveries."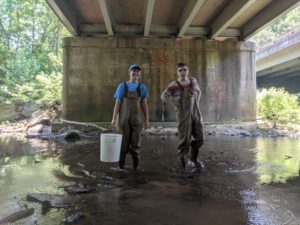 Coordinating this year's SSI program with Assistant Professor of Mathematics Jeb Collins, Oldham also is guiding Highlander and other students in their research.
The pioneering work is being bolstered by UMW's Beyond the Classroom Endowment. Catherine Woteki '69 – who earned biology and chemistry degrees at Mary Washington and later served as the USDA's chief scientist – and husband Tom are matching gifts toward the endowment through the end of July. Donors have already contributed more than $50K for high impact learning experiences like SSI, said College of Arts and Sciences Dean Keith Mellinger.
Senior Rina Murasaki, one of 13 Jepson Scholar grant recipients who also participated in SSI as freshmen, studied how pesticides and pollutants affect farm-friendly earthworms in her work with Department of Earth and Environmental Sciences faculty Tyler Frankel and Melanie Szulczewski.
"Conducting research with a professor is the most comprehensive education you'll get as an undergrad," said Murasaki, who is already considering how her research might influence agricultural practices and policies. "UMW is unique because faculty give their time, attention and expertise to help students pursue their own interests."
Professor of Mathematics Leo Lee helped Fredericksburg-area health officials chart COVID cases in the region during the spring of last year, which inspired seniors Trevor Drinkwater and Caitlin Holt's work, creating mathematical models to track the virus's spread. "Predicting future trends will help us avoid dangerous outbreaks," Holt said.
Biomedical sciences major Andrea Waltrip teamed up with Assistant Professor of Biology Ginny Morriss to research myotonic dystrophy. By identifying genes in fruit flies, Waltrip hopes to find solutions to lessen the severity of the muscle-weakening disease in humans.
"Even a small discovery may help lead to new treatments and preventative medicine," she said. "Everything I've learned this summer – being self-motivated and prepared, and bouncing back when things don't go according to plan – will help me in my education at UMW, in graduate school and beyond."
Attend the Summer Science Symposium virtually on Wednesday, July 21 from 9 a.m. to 3:45 p.m. Support UMW student research through the Beyond the Classroom Endowment.